On December 7, 2021, Digital China Holdings Co., Ltd. (abbreviation: DC Holdings; stock code: 00861.HK) and JD Technology Holdings Co., Ltd. (abbreviation: JD Technology) held a high-level meeting and a strategic signing ceremony. It will focus on government and key industry sectors, and jointly create products and scenario-based solutions in areas such as urban digital governance and industry digital transformation, and face future technological development and industrial transformation to combine forces, collaborate and seek common development.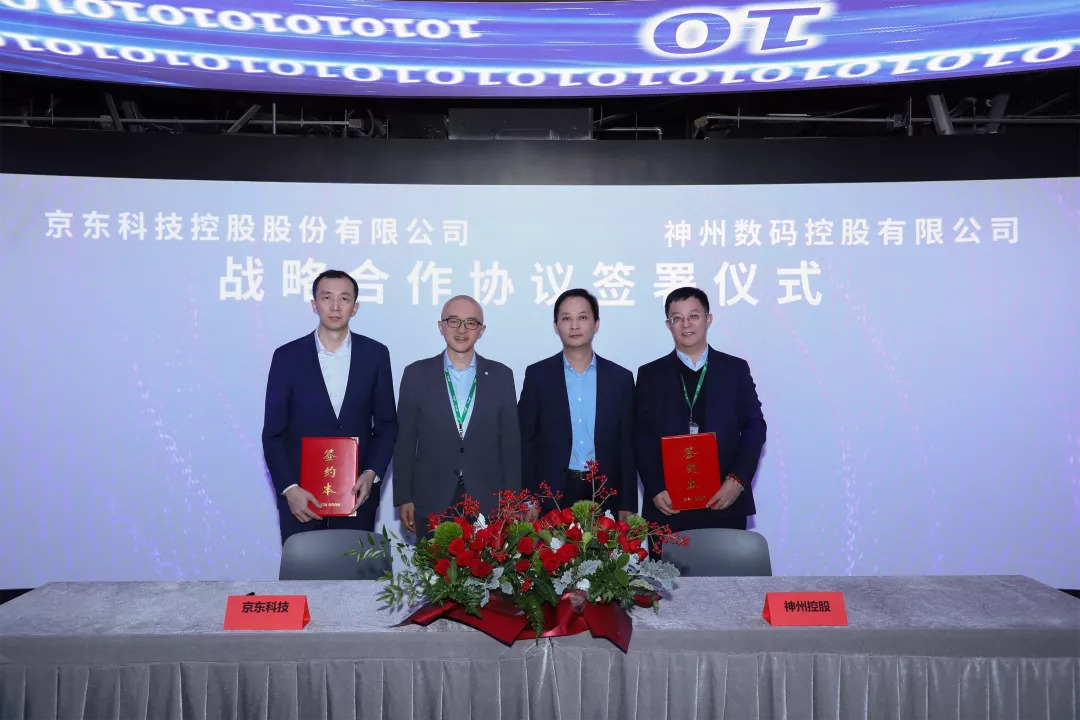 Under the witness of Sun Yang, Senior Vice President of DC Holdings, Xu Feng, Vice President of JD.com, and President of JD Digital City Group, Chen Jing, Vice President of China's Smart City Group, and JD.com's Vice President, JD Digital City Wang Nan, head of the Group Ecological Operation Service Department, signed the agreement.
Analysts said that the "Fourteenth Five-Year Plan for Big Data Industry Development" recently issued by the Ministry of Industry and Information Technology, as an action plan for the development of the big data industry, proposes to focus on promoting the big data industry from the cultivation period to the high-quality development period. Cultivating the digital transformation of key industries, new infrastructure, new smart city construction, and big data transaction markets have become important tasks for the high-quality development of the big data industry, and the industry has ushered in major market development opportunities.
For customers in cities and key industries, DC Holdings is positioned as a "big data service company that empowers core scenarios with independent innovation of big data fusion technology", with data as the core production element, facing digital native cities, digital native supply chains, etc. The core scenario provides rich product applications and industry practices such as urban digital governance for government customers and digital supply chain for key industry customers.
JD Technology is a business sub-group of JD Group focused on serving government and enterprise customers with technology. Relying on JD's accumulation of years of hard work in the supply chain, it is currently based on cutting-edge technologies such as artificial intelligence, big data, cloud computing, and the Internet of Things. Provide digital and intelligent solutions based on the supply chain for the digital transformation and upgrading of "thousands of industries".
It is reported that in this strategic cooperation, the two parties will focus on all-round cooperation in business, products, technology and operations. In terms of business collaboration, jointly build teams and share information, focusing on the layout of the advantageous cooperation areas and industry areas of both parties; in terms of product cooperation, integrate their respective superior digital products to create a digital scenario-based joint solution; in terms of technical cooperation, collaborative innovation will be carried out around future digital technologies; in terms of operations Give full play to their respective advantages in industries, resources, talents, brands, etc., and achieve win-win results through the continuous operation of the project.
Sun Yang, senior vice president of DC Holdings, said that the "14th Five-Year" Big Data Industry Development Plan pointed out that during the "14th Five-Year" period, China has entered a critical period of making great strides from an industrial economy to a digital economy. By 2025, The estimated scale of the big data industry exceeded 3 trillion yuan. Facing unprecedented opportunities, I believe that the company and JD.com will work together to explore digital solutions for government and key industries, and create a new ecosystem of digital transformation, which is bound to win more market opportunities and create greater value for shareholders and society.